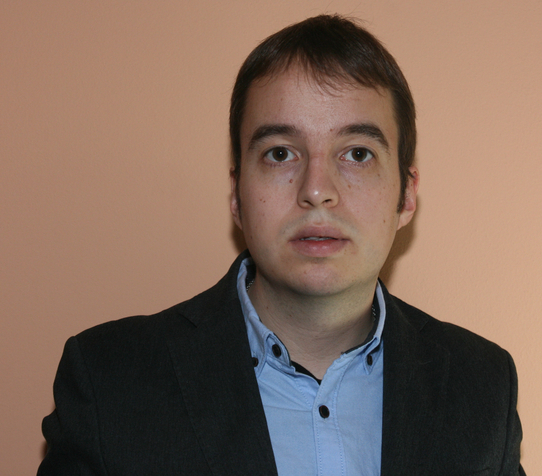 Alberto González
Senior IT especialista en UNIX
He estado trabajando con UNIX durante 10 años. En mi actual trabajo estoy trabajando con IBM's AIX. Me centro en soluciones de Alta disponbilidad y en mi tiempo libro trabajo con PaaS (platform as a service / plataforma como servicio).
Nombre completo
Alberto González Rodríguez
Fecha de nacimiento
18 Sep 1984 - Vigo, Galicia, España
Correo electrónico
alberto@oforte.net
Red Hat® Certified Engineer
Red Hat-
2015
Configuring static routes, packet filtering, and network address translation
Setting kernel runtime parameters
Configuring an Internet Small Computer System Interface (iSCSI) initiator
Producing and delivering reports on system utilization
Using shell scripting to automate system maintenance tasks
Configuring system logging, including remote logging
Configuring a system to provide networking services, including HTTP/HTTPS, File Transfer Protocol (FTP), network file system (NFS), server message block (SMB), Simple Mail Transfer Protocol (SMTP), secure shell (SSH) and Network Time Protocol (NTP)
Red Hat® Certified System Administrator
Red Hat-
2013
Understand and use essential tools for handling files, directories, command-line environments, and documentation
Operate running systems, including booting into different run levels, identifying processes, starting and stopping virtual machines, and controlling services
Configure local storage using partitions and logical volumes
Create and configure file systems and file system attributes, such as permissions, encryption, access control lists, and network file systems
Deploy, configure, and maintain systems, including software installation, update, and core services
Manage users and groups, including use of a centralized directory for authentication
Manage security, including basic firewall and SELinux configuration
High Availability for AIX Technical Support and Administration
IBM Certified Systems Expert -
2013
Introduction to PowerHA SystemMirror
Planning and configuring network and storage for PowerHA SystemMirror
Cluster planning, an Preparing the AIX environment for PowerHA SystemMirror
Configuring applications for PowerHA SystemMirror
Configuring a PowerHA SystemMirror cluster
Preparing an application for integration with SystemMirror
Initial cluster configuration
PowerHA SystemMirror installation
Install and maintain PowerHA SystemMirror
Problem determination strategies and tools
Resolving LVM and C-SPOC problems
AIX 7 Administration
IBM Certified System Administrator -
2012
Configure and manage networking in AIX

Manage and configure VIO client partitions

Manage devices

Manage storage

Use HMC and SDMC to manage system resources

Perform user administration tasks (such as limiting resources, creating/using groups, etc).

Have strong knowledge of system backup and recovery

Have strong and AIX installation and maintenance skills

Configuring and managing system security

Use NIM, WPAR Manager and Systems Director (base product)

Understand PowerVM components such as AME, AMS, Shared Processor Pools, etc.
LPI 1/2 Certifications
Linux Professional Institute -
2009 y 2010
LPI 1
System Architecture
Linux Installation and Package Management
GNU and Unix Commands
Devices, Linux Filesystems, Filesystem Hierarchy Standard
Shells, Scripting and Data Management
User Interfaces and Desktops
Administrative Tasks
Essential System Services
Networking Fundamentals
Security
LPI 2
Capacity Planning
Linux Kernel
System Startup
Filesystem and Devices
Advanced Storage Device Administration
Networking Configuration
System Maintenance
Domain Name Server
Web Services
File Sharing
System Security
Otras certificaciones
Certificaciones obtenidas entre
2006-2012
CompTIA+ Certification

Novel Linux Certification

Zend PHP Certification

Mysql certification

IPV6 he.net certification
Desarrollo de aplicaciones
Daniel Castelao (2 años de curso) -
Graduación julio 2007
Asignaturas de UNIX, bases de datos y programación. También teoría sobre base de datos y programación.
IBM GSDC Brno
IT especialista en UNUX -
Julio 2012 - Actualmente
Especialista en Linux/AIX. Centrado en actualizaciones y migraciones. Experto en alta disponibilidad y último nivel de soporte. Premiado como mayor contribuidor.
Academia Postal.
Profesor de Linux -
Nov 2011 - Junio 2012
Enseñando para certificaciones Linux: LPI 1 y LPI 2 (Linux Professional Institute).
Tecnocom - Trabajando en la Universidad de Vigo
Administrador de sistemas -
Sep 2009 - Jun 2012
Administrador de sistemas Linux y técnico de CPD. Incluyendo admisnitración SAN/NAS, virtualización (VMWare y Xen), administrador de copias de seguridad (TSM y networker) y soluciones en alta disponibilidad en Linux (keepalived, haproxy, hearbeat).
Ultreia Comunicaciones S.L.
Administrador de sistemas y programador -
Jul 2006 - Sep 2009
Programador en C/PHP/Perl y administrador de sistemas en Linux. Trabajando con: firewall (shorewall), VPN (openvpn), LDAP, sevidores de correo (Exim) y Xen. Además trabajando como Mysql y consultor de Mysql.
Habilidades profesionales
Habilidades UNIX
Análisis de rendimiento y profundo conocimiento de kernel.
Virtualización
Experiencia en Xen (Xenserver y xensource) y VMware. Ahora centrado en contedores Linux, especialmente centrado en docker.
Alta disponibilidad
Experiencia con solución HACMP/PowerHA y Veritas cluster. También trabajado por años con HA soluciones para Linux: keepalived, haproxy, heartbeat. También expenriencia con gluster.
Entornos de grandes compañías
Después de haber trabajado en un CPD y trabajado en IBM para clientes importantes, tengo un profundo conocimiento sobre las infrastructuras complejas y los requisitos para implementarlas. Esto incluyo conocimiento para crear el diseño e implementarlo.
Enviar mensaje
Dirección
Brno, República Checa
Teléfono
+420 776 653 551
Correo electrónico
alberto@oforte.net